Attributes
5'10" 12st.6lb.
b. Liverpool 12 September 1878
d. Liverpool 9 April 1943
 
Career
Debut 1 September 1908 (29y 354d) Final Game 1 March 1913 (34y 170d)
CAREER: Wilbyn's United.;Anfield Recreation Club;Everton Amateurs;Garston Copperworks;Everton (trial);Gravesend United Sum'99;Woolwich Arsenal Jun'00[275];Blackburn Rovers May '08-Jun'13 (£350);Millwall;Tranmere Rovers.
INTERNATIONALS   England 3 apps
'06 v Ire,Wal,Sco.
FOOTBALL LEAGUE 2 apps '05 v IL.'06 v SL.
 
Playing Statistics
FL        114 apps
FAC       15 apps
Total   129 apps  et 30m
Penalty record F 11 Sc 5 Sv 4 M 2
Minutes per goal 66  Clean Sheet % 26
Longest unbeaten  304m First goal conceded 60m
LC         13 apps et 60m
Minutes per goal 72 Clean Sheet % 23
Penalty record F 2 Sc 1 Sv 1
Most goals one game  6
War time
L            1 app
Minutes per goal  90
 
Summary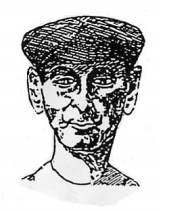 Ashcroft's father sold fruit and vegetables from a cart which he pushed around the Toxteth Park area. His son had trials with Everton but conscious of the need to earn he declined to continue because Gravesend had offered him a contract. Within a season he had been picked up by Arsenal and improved to the point where he was selected for England. By the time he came to Ewood he was experiencing the decline that some excellent goalkeepers experience when they turn thirty but he was solid and dependable and upgraded the position until he was replaced by the charismatic Alf Robinson. Embarking on a career in management at Cardiff he found himself out of work when the club was not elected to the Football League as had been anticipated. He obtained his next club after placing an advertisement in the newspaper. His son, James Henry, played for Runcorn, Liverpool reserves and Earle.