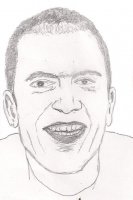 Attributes
6'3" 12st.13lb. b. Munich (Germany) 8 September 1972
Career
First Goal 10 November 2003 Final Goal 26 December 2003
CAREER: TSV Gilching Argelsried;Bayern Munich '91;Hamburg SV '92;Bayern Munich '94;Liverpool Jun'00 (free)[42-3];Blackburn Rovers Aug'03 (loan);VfB Stuttgart Jun'04 (free)-Jun'07.
INTERNATIONALS  Germany 41 + 10 apps 1 gl
'95 v Spa,Geo,Wal,Bul,Ita.'96 v Bel,Geo 1 gl,Mol,Wal,Bul,Por,Den(s),Hol(s),Fra,Cze(s),Rus,Cro,Eng,Cze.'97 v Pol(s),Arm,NIr, Por,Isr.'98 v NIr(s),Por(s),Bra(s),Nig,Fin(s),Lux(s),USA(s),Mex.'99 v Mlt,Rom,Tur,Mol,USA,Col,Nir,Fin,Mol(s).  '00 v Fin, NIr,Tur,Nor,Hol,Swi,Cze,Lie,Rom,Eng.
HONOURS UEFA Cp win (Bayern Munich) '96,(Liverpool) '01.Eur Cp los (Bayern Munich) '99.Ger Ch (Bayern Munich) '97,'99,'00.Ger Cp win (Bayern Munich) '98.Ger Cp los (Bayern Munich) '99.FAC win (Liverpool) '01.FLC win (Liverpool) '01.
SQUAD NUMBER  11 Aug'03.
Playing Statistics
PL          23 + 2 apps  3 gls  -2 wdn                           3 ns
FAC        1 app
FLC         1 app
UEFA     1 app
Total     26 + 2 apps  3 gls  - 2 wdn    +37m -70m   3 ns
Summary
A towering player who is at home at right back or in the centre of defence he made such little progress with his home town club that he was allowed to join Hamburg. He returned to Munich two years later still as elegant in style but with a professional, ruthless efficiency that guaranteed that he would play at the highest level. International caps and championship medals followed but despite this success he took advantage of being out of contract to join Liverpool, just in time to contribute to the historic three publically cups season. At the peak of his profession he developed the sometimes fatal Guillain-Barre syndrome but although it took above a year, during which time he spent time in a wheelchair unable to walk, he recovered and started playing again. He found that Liverpool had moved on without him and unable to establish a regular place he was allowed to join the Rovers on a season
 long loan. After a promising start his form slumped alarmingly which he subsequently blamed on the drinking culture at the club. To support his claims when he moved back to Germany he recovered his panache and was brought back into the international squad. In 2006 he announced that he would retire at the end of the season, which ended with Stuttgart winning the Bundesliga for the first time in fifteen years, but Babbel contributed only 97 minutes of playing time to the achievement. At the end of the season he remained with the team as assistant coach and in November 2008 was placed in charge of the team. By the end of the season he had steered them to third place in the Bundesliga but he was dismissed at the end of 2009. Six months later he was appointed coach to Hertha Berlin but was dismissed in December 2011. Two months later he was appointed  coach at Hoffenheim but he was dismissed in 2013. The following year he was appointed coach of the Swiss side Luzern. The role lasted for four years before he left after a public plea  to his players to indulge in less sex and then criticising his club. He resumed his coaching career in Australia with Western Sydney Wanderers in May 2018.
Edited by Kamy100