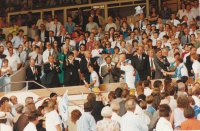 After the behind the scenes at Brockhall episode, the pod reverts to er "normal service" with a review of on-field October, discussions of tactics, formations, attendances, handling disappointment and play off memories from the 80's.
Panelists Jen Bellamy, Linz Lewis, Mike Delap, Michael Taylor are joined by new "boy" Ian Futter, which means for once host Ian Herbert isn't the oldest contributor.
Special mention to Bill Arthur for another of his wonderful narrations from Canada; this time covering off play off misfortune in the 1980's and final redemption in 1992.
Edited by Herbie6590