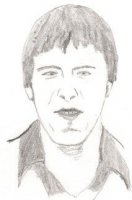 Attributes
5 7"  10st.4lb.
b. Filey  30 January 1959
 
Career
Debut 6 October 1979 (20y 249d) Final Game 3 October 1981 (22y 246d)
First Goal 10 October 1979 Final Goal 23 September 1981
CAREER: Ebor Academy;Filey Town'76;Derby County Jan'78 (app Sep'75)[16+5-4];Manawatu (New Zealand) '79 (loan);Blackburn Rovers Oct'79 (£50,000);AFC Bournemouth Oct'82 (£35,000)[31+2-10];Cardiff City Aug'83 (trial)[6-1];Scarborough Town Oct'83 (non con);Middlesbrough Oct'83-Jun'84[8-1];Stockport County Dec'84[6+2-1]; Torquay United Feb'85 (non con)[8+3]; Poole Town '88;AFC Lymington;Bridlington Town;Pickering Town'94;Hunmanby United.
Playing Statistics
FL            56 apps     21 gls   - 4 wdn  3g 1                       4 ns
FAC           8 apps       5 gls
FLC           4 apps                   - 1 wdn                                 1 ns
Total      68 apps      26 gls   - 5 wdn   + 11m -60m        5 ns
Strike rate 233 mins
Penalty record  T 1 M 1
ASC        3 apps                 - 1 wdn             -15m
 
Summary
A small, self obsessed left sided striker Crawford was signed by Howard Kendall  to score sufficient goals  to lift the side from the Third Division. He performed the task to the letter, with 18 league goals scored from all ranges, distinguished only by his manic desire to inscribe his name on the score sheet. Unpopular in the dressing room he succeeded  in alienating the fans when immediately after promotion he submitted a transfer request on the grounds that he was worthy of a better club. Pushing the self destruct button he committed a breach of discipline  on Bournemouth's  tour of New Zealand  and from then on his  career spiralled  downwards. Still playing in 2001 alongside his son Ryan, they played for Hunmanby United in the Scarborough and District FA Harbour Cup Final. Later in the year a confrontation with Filey Town's Paul Bowes provoked a mass  brawl that forced the abandonment of a tie in the Scarborough District Cup.