Forename(s)
Christian Eduard
Attributes
6'0"  12st.10lb.
b. Dundee 23 October 1973
 
Career
Debut 29 August 1998 (24y 310d) Final Game 1 January 2001 (27y 70d)
First Goal 18 September 1999 Final Goal 26 February 2000
CAREER: Downfield Primary;Harris Academy;Sporting Club (Dundee);Dundee United Aug'90[110+33-18];Derby County Aug'96 (£1,000,000)[62+5-4];Blackburn Rovers Aug'98 (£5,300,000);West Ham United Jan'01 (£1,750,000)[133+25-2];Southampton Sep'07-Nov'07 (loan)[11];Glasgow Rangers Jan'08-Jun'09 (free)[19+2-2];Charlton Athletic Jul'09 (free)[72-2];Portsmouth Aug'11-Sep'11 (free)[0+1];Southend United Mar'12-Jun'12 (free)[3].
INTERNATIONALS Scotland 63 + 4 apps  4 gls
'97 v Wal,Mlt 1gl,Bel.'98 v Bel,Lat,Fra,Den,Fin,Col,USA,Bra,Nor,Mor.'99 v Lit.'00 v Bos,Est,Bos, Lit,Eng,Eng,Fra,Hol,RoI.'01 v Lat,SaM,Aus,Pol.'02 v Cro,Bel,Lat,Nig,Fra,SKo,SAf,HK.'03 v Den,Far,Ice 1gl,Can,Por,RoI,Ice,Lit,Aut,NZ,Ger.'04 v Nor,Ger,Lit, Hol,Wal,Rom,Den.'05 v Mol(s) 1gl,Blr.'06 v Aut,Ita,Blr,Svn,USA,Swi.'07 v Far,Lit 1gl,Fra,Aut(s).'08 v Ukr(s),Cze(s).
HONOURS Sc Cp win (Dundee United) '94,(Rangers) '08 (nps).FAC los (West Ham United) '06.SL Cp win (Rangers) '08.UEFA Cp los (Rangers) '08(nps).
SQUAD NUMBER  23 Aug'98 - 3  Jul'00.
Playing Statistics
PL/FL     60 +10 apps    4 gls    - 1 wdn                                              25 ns   1 og
FAC         4 apps
FLC          5 +  1 apps                                                                             4 ns
UEFA      2 apps
Total     71 + 11 apps   4 gls      - 1 wdn  + 293m -71m et 30m    29 ns    1 og
Penalty Record  (SO)  T 1 SC 1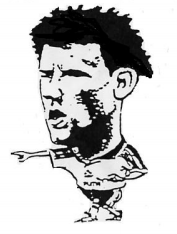 Summary
A utility defender capable of playing at left back or in the centre of defence he  prompted varied opinions wherever he played the game. An intelligent man who played the game with care and comprehension he could dominate in the air and was mobile and strong enough. Consistency was his failing  but Roy Hodgson believed in him sufficiently to pay a huge fee when he brought him to replace Henchoz. Two and a half years later his value had dropped by two thirds and even so it was some time before the West Ham supporters believed they had obtained a bargain. Despite the longevity of his career he remained a player of classical potential who never matured into the commanding figure he might have become. After retiring he gained a first class degree in Sports Science and became a personal trainer for athletes. He was engaged to train Dundee United on a part time basis, a club where his son Harvey (who was born in Blackburn) commenced playing for.
Edited by Kamy100