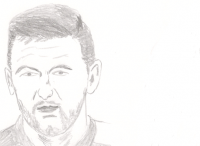 Attributes
5'7" 10st.5lb.
b. Irvine 2 May 1985
 
Career
Debut 1 February 2014 (28y 275d) Final  game 5 May 2019 (34y 3d)
First Goal 22 February 2014 Final goal 16 March 2019
CAREER: Kilmarnock Academy;Caledonian BC(Prestwick); Ayr United '03[48+13-7];Dundee United Jan'06[107+30-13];Cardiff City Jun'11 (free)[45+13-5];Brighton & Hove Albion Sep'13-Dec'13 (loan) [11+2-1];Blackburn Rovers Jan'14 -Jun'19(£100,000).
INTERNATIONALS Scotland 2 + 5 apps
'10 v Jap.'11 v NIr(s).'12 v Cyp(s).'13 v Cro(s).'14 v Eng(s),USA,Nor(s).
HONOURS Sc Cp Win '10 (Dundee United) FL Cha '13 (Cardiff City)
SQUAD NUMBER  32 Jan'14.
 
Playing Statistics
FL        136  +42 apps 19gls  -54 wdn                                         79 ns
FAC        11  +  3 apps    1 gl      -3 wdn                                           4 ns
FLC         5   + 2 apps     2 gl s    -2 wdn                                            4 ns
EFL         1 app                           - 1 wdn
Total 153 + 47 apps   22 gls    -60wdn +1,173m -1,357m  60m et  87ns  ( 3gls as sub)
Penalty record T 3 Sc 3
Sent off 1
LC 1 app
Penalty record (SO) T 1 M 1
 
Summary
 A lively winger who liked to keep wide and cross the ball, he made an impression with Dundee United and as a consequence was capped for Scotland. He took advantage of his contract running out, to join Cardiff who he helped to promotion to the Premier League, When Cardiff strengthened for the higher division he realized his opportunities would be limited and after a loan spell at Brighton, he joined the Rovers. His parents owned a high class hairdressers in Kilmarnock and on leaving school Conway trained to be a hairdresser. Although he had lost pace he proved a pleasant surprise at Ewood, the quality of his crossing providing opportunities for Rhodes and Gestede that had been in short supply. He was also a superb team man, who did not lose the ball, could run the ball out of defence and always  sought to help his full-back.