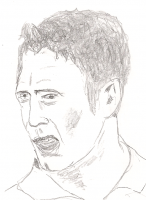 Attributes
5' 9"  10st.12lb.
b. Hackney 6 July 1980
 
Career
CAREER: Gillingham Jan'98[8+8-2];Blackburn Rovers May'98 (£525,000);FC Royal Antwerp (Belgium) Nov'01 (trial);Darlington Mar'03-May'03 (loan)[9+1-2];Southend United Jul'03-Jun'05 (free)[14+9-2];Margate Sum'05;Dagenham & Redbridge Nov'05 (trial);Welling United Feb'06-May'06;Folkestone Invicta Sep'06;Faversham;Herne Bay-Dec'11.
SQUAD NUMBER  21 Aug'98.
 
Playing Statistics
FLC                                       1 ns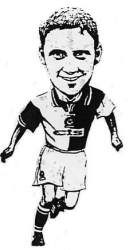 Summary
Although he had been only a professional for a few months, and had been a programme seller quite recently, the Rovers paid a considerable fee to win the race for his signature. Capable of beating an opponent on either side and with a reputation for being able to score goals his debut was hampered by initial muscle strains and then a broken leg. Named as substitute in an under strength side for the League Cup he received no other call up for the first team and has played much fewer games in the Football League than was prophesied when he was a teenager. By the time he finally admitted that his body was not destined for football he had broke his right ankle five times, his left one four times, and undergone two hernia and two knee operations. He sunsequently qualified and works as a pharmacist.
Edited by Kamy100