Attributes
5'9.5" 11st.6lb.
b. Manchester 28 June 1947
 
Career
Debut 19 August 1978 (31y 285d) Final Game 19 September 1979 (32y 83d)
First Goal 7 April 1979 Final Goal 28 April 1979
CAREER: Seymour Rd Jnrs;Wheeler St Sec Mod;Manchester United Jul'64 (app Jun'63)[139+12-25];                                           Luton  Town Jul'72 (£30,000)[171+3-31];Mansfield Town Sep'77[24+7-4]; Blackburn Rovers                                                                      Jul'78-Jun'80 (£20,000).
HONOURS  Eur Cup win (Manchester United) '60.
 
Playing Statistics
FL        12 + 3 apps     2 gls   - 2 wdn                              4 ns
FLC        1 apps
Total   13 + 3 apps     2 gls   - 2 wdn  + 88m -30m     4 ns    ( 2gls as sub)
ASC     4 + 1 apps                                  + 45m                1 ns
 
Summary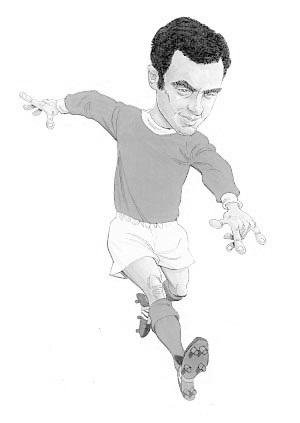 Sons who take the route of their father run a hard road and as the son of the Manchester United international, John Aston was not guaranteed an easy ride. Fortunately he was a vastly different player from his father, who had been a full back. Aston was a touchline hugging left winger, fleet of foot who deemed it his major role to stay wide and cross often. It brought him an Under 23 cap but more memorably a place in United folklore as the man who destroyed the Benfica right back Adolfo in the 1968 European Cup final. Soon after he broke a leg and with his place gone at Old Trafford he moved for a spell of gainful employment with Luton. His move to Ewood was to accommodate a desire to play nearer to his home in Ashton. It brought limited benefit to the Rovers. Although he had occasional flashes of speed he lacked stamina and contributed little before retiring to his pet shop business in Stalybridge.