Attributes
5'11" 11st.5lb.
b. Artane, Dublin 13 September 1980
 
Career
Debut 30 August 2008 (27y 351d)   Final Game 14 May 2011(30y
First Goal 1 November 2008 Final Goal 28 February 2010243d)
CAREER: Ardscoil Rís;Wolverhampton Wanderers Sep'97 [41+24];Oxford United Nov'00 (loan) [4-1];Stoke City Aug'03 (loan) [16];Walsall Mar'04 (loan) [10-2];Hull City May'05 (free [24+5];MK Dons Aug'06 (free) [74+1-18];Blackburn Rovers Aug'08 (£700,000);Ipswich Town Aug'11-Jan'12 (loan)[19+1-9];West Bromwich Albion Jan'12 (free)[8+6-2];Bolton Wanderers Jul'12 (free)[23+3-4];Brighton Aug'13-Jun'14(loan)[28+3-1];Watford Jul'14-Dec'14 (loan)[4+5-1];MK Dons Feb'15(loan) [2+3].
INTERNATIONALS  Republic of Ireland 30+ 5 apps 3 gls
'09 v Pol(s)1gl,Geo,Bul,Ita,Nig.Bul.'10v Aus(s),Cyp,SAf,Ita,Fra,Fra,Bra,Par,Alg(s).'11v Arg,NIr,Sco,Mac,Ita 1gl.
'12 v Svk,Rus,And,Arm,Est 1gl,Est,Cze,Bos (sub),Hun,Cro,Spa,Ita.'13 vGer,Far,Gre(s).
HONOURS  Div 2 Ch (MK Dons) '08.Ass Mem Cp win (MK Dons) '08.
SQUAD NUMBER 17 Aug'08.
 
Playing Statistics
PL        50 + 19 apps  5 gls    - 12wdn                                    31 ns
FAC       1 + 2 apps                   -1 wdn                                      3 ns
FLC        1 + 2 apps                                                                     3 ns
Total   52 + 23 apps  5 gls     - 13wdn  + 598m  - 402m     37 ns (2 gls as sub)
Penalty record  T 1 Sc 1
 
Summary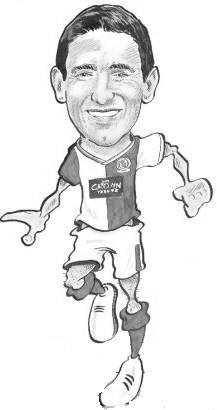 Born in the north of Dublin, Andrews joined the Wolves straight from school and appeared to be making such good progress that he was appointed club captain at an early age. A broken leg set him back and he was floating from club to club when Paul Ince was re-united with him at Milton Keynes (the pair having played together with Wolves). He made him his on field general, gave him licence to attack, a position he relished to the extent that he scored twelve goals in a season where the club finished as Second Division champions. Once Ince agreed to take over at Blackburn he always had the desire to bring Andrews with him and shortly before the transfer deadline he completed his move. His failure to advance his international career beyond youth level was attributed to a long standing feud with the Irish Under 21 manager, Don Givens but the arrival of Trappatoni as Ireland's manager, combined with elevation to the Premiership changed this and he made his international debut not long after joining the Rovers. The jump from the fourth division of the English pyramid to the top flight, was not achieved without trauma but his ability to keep mobile and enthusiastic kept him permanently involved with the first team, despite his mentor, Paul Ince, leaving the club in December. Although Sam Allardyce stuck with the player even when he proved to be one of the crowd's least favourite players, Steve Kean was less supportive. In view of the poor reception he got from the crowd he deemed it better to let him go out on loan and then gave him a free transfer. Although he appeared to do well at West Brom he was not offered a new contract and joined Bolton. In 2014/15 he had the distinction of playing (although not often) for two teams who gained promotion. As soon as the season was ended it was announced that he would take a coaching role with MK Dons. This lasted for a season before he decided to become a TV pundit, with RTE and Sky.