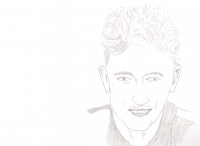 Attributes
5'11"  12st.2 lb.
b. Vadso (Norway) 8 September 1969
 
Career
Debut  14 October 1995 (26y 36d) Final Game 28 February 1998 (28y 173d)
First Goal 14 October 1995 Final Goal 25 August 1997
CAREER: Nadderud Videregående Skole;Baerum Sportsklubb '86;SFK Lyn;Valerengens Idrettsforening;Young Boys of Berne (Switzerland)Nov'89 (£40,000);Viking Stavanger Apr'90 (loan);Lillestroem Sportsklubb Jan'93 (loan);Nottingham Forest Oct'93 (£450,000)[59+5-7];Blackburn Rovers Oct'95 (£700,000);Derby County Mar'98 (£1,450,000)[47+9-1];Lyngby FC (Denmark) Jan'01 (free);Forum BK (Denmark) Dec'01-Aug'02;Valerengens Aug'03-Dec'03.
INTERNATIONALS  Norway  40 + 9 apps 10 gls.
'90 v Kuw(s),Sco(s),SKo,Mlt;'91 v Cam 1gl,Cyp 1gl,Rom,Ita 1gl.'92 v Swe,Cze(s),Hun,Egy(s),Den(s),Far 1gl,Sco.'93 v Eng 1gl,Hol.'94 v Far 1gl,USA, Pol,Pol,Tur 1gl,USA(s),CoR,Wal,Por,Eng,Den,Swe,Mex,Ita,RoI(s).
'95 v Bel,Hol,Bel 1gl,Mlt,Est 2gls,Cyp(s),Lux,Lux,Gha.'96 v Cze,Cze,Eng,Hol,Spa.'97 v Hun.'98 v Fra.'99 v Gre(s).
HONOURS Swiss Cp los (Young Boys of Berne) '90.
SQUAD NUMBER  22 Oct'95- 10 Aug'96 -12 Aug'97.
 
Playing Statistics
PL          40 + 18 apps    7 gls   -3 wdn                                              32 ns
FAC         2 +  1 apps       1 gl                                                               2 ns
FLC         3 +   2 apps       1 gl   -1 wdn                                                2 ns
Total    45 + 21 apps     9 gls   -4 wdn  +517m -113m  et 60m           36 ns  (2 gls as sub)
Penalty record (SO) T 1 M 1
 
Summary
Born in the Finnmark county of Northern Norway, Bohinen grew up in Mo i Rana (Lagnes), which is not far from the Arctic Circle. Fortunately he moved near Oslo at the age of 14 and commenced playing for his local side, making his debut in the Second Division in 1986. Although he progressed and moved accordingly he was ill at ease when he ventured abroad and was loaned out by his Swiss club. It was not until he signed for Nottingham Forest that the football world was shown what a true talent he was. With complete mastery of the ball he was able to perform perfect cameos of casual trickery, could ease elegantly through a defence and could also shoot with power. Conversely he was inconsistent, sometimes refrained from tracking back and suffered frequent niggling thigh injuries. A revelation when he arrived at Ewood he was never accommodated in the "hole" which Ray Harford believed was his true position. When relegation loomed Tony Parkes preferred the "dogs of war" across his midfield and Bohinen was left an isolated and somewhat dispirited individual. Never one to suffer silently he was in trouble with Harford and then with Jim Smith at Derby because of his inability to accept situations he did not appreciate, which had prompted him once to refuse to play for his country against France as a protest at the French nuclear testing programme. His last playing days were spent in Denmark. Here he had the misfortune to first play for a club that went bankrupt and then received a career ending injury with his next club in only his second game. Returning to Norway he was appointed assistant coach with Valerengens, making a brief playing comeback before injury. In January 2007 he was appointed director of sport at Stabaek Football but resigned in April 2009 to become football pundit on Norway's TV 2. Opinionated and articulate, an internet article on the rudeness of the French was classic, he was a natural for the role. It was not a surprise that he still wished to be more involved in the game and in 2012 he became manager of Asker, moving two years later to Sandefijord.