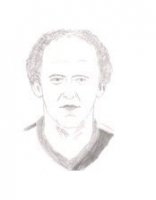 Attributes
5'10" 10st.6lb.
b. Dundonald 18 November 1956
d. Blackburn 6 May 1995
Career
Debut 20 August 1977 (20y 275d) Final Game 7 March 1987 (30y 109d)
First Goal 27 August 1877 Final Goal 16 September 1986
CAREER: Dundonald High School;Torrin Atheltic;Tottenham Hotspur Apr'74 (app'72)[1];Blackburn Rovers Jul'77 (free);Bury Jul'87 (free)[32+6-4];Scarborough Oct'88 (loan)[5];Motala (Sweden) '89;Chorley '90.
INTERNATIONALS  Northern Ireland  22 + 5 apps 3 gls
'80 v Sco,Eng,Wal 1gl,Aus,Aus,Aus 1gl.'81 v Swe 1gl,Por.'82 v Sco,Isr,Eng,Fra,Sco,Wal,Hon(s),Aut(s).'83 v Aut,WGe,Alb, Tur,Alb,Sco(s),Eng(s),Wal.'84 v Tur.'85 v Isr(s),Tur.
Playing Statistics
FL        307 + 10 apps   40 gls   -14 wdn                                             15 ns
FAC       24  +  1 apps    4 gls                                                                  1 ns
FLC        22 apps             2 gls    - 2 wdn
FMC       2 +   1 apps       1 gl    - 1 wdn                                                 2 ns
Total  355 + 12 apps     47 gls   -17 wdn + 411m - 401m  et 60m  18 ns
Penalty record T 1 M 1
Sent off 2
ASC     14 apps             7 gls
LC        14 apps             3 gls
Summary
Although he was a product of a successful youth crop at White Hart Lane the sheer volume of talent made Brotherston surplus. Blackburn found they had a right winger who was a tricky, mercurial ball player who could change a game and initially also had an eye for goal. When in 1980 he scored the goal that clinched the home international championship for his country it appeared likely that a lucrative move was in the offing but despite foreign interest nothing materialised. As the seasons wore on Brotherston appeared to show the frustrations. Sometimes playing on the left wing he became inconsistent and often infuriating as he squandered his talent. He remained in the town, working as a painter and decorator but in 1995, at the age of 38, he was found dead in bed from heart failure.
Edited by Herbie6590