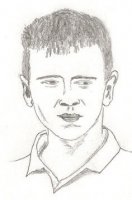 Attributes
5'11"  11st.
b. Rotherham 15 September 1994
 
Career
CAREER: Swinton Comprehensive School(Rotherham);Swinton Community College;Blackburn Rovers Sep'11(pro)-'Jun'14;Sheffield Wednesday Apr'14 (trial);Chesterfield Jul'14 (trial);Sheffield FC Aug'14;Goole Town Sep'15.
SQUAD NUMBER  38 Dec'10 -40-Aug'11 -37 Aug'12.
 
Playing Statistics
FAC                                                  1 ns
LC       2 apps  - 1 wdn  -17m
FAYC   3 + 5 apps  1 gl  - 2wdn  4 ns
PSO  T 1 Sc 1
 
Summary
The local youngster was named as substitute for the FA Cup tie on 8 January 2011 when he was only three months past his sixteenth birthday. In the previous season he played seven times for the England under 16 side. Hailed by Steve Kean as the next Steven Gerrard his career failed to develop and he was released in 2014.