Attributes
5'10"  11st.2lb.
b. Glasgow 27 September 1956
 
Career
Debut 19 December 1987 (31y 83d) Final Game 18 May 1988 (31y 233d)
First Goal 16 January 1988 Final Goal 9 April 1988
CAREER: Burgh Primary School,Rutherglen;Crofoot Utd;Fernhill Ath;East Stirling;Clyde '74[46+5-5];Aberdeen Jan'78 (£25,000)[74+2-29];Tottenham Hotspur May'80 (£800,000)[131-58];Barcelona (Spain) Jul'84 (£1,150,000);Blackburn Rovers Dec'87-Jun'88 (loan);Hibernian Aug'88 (free)[39+5-15];Espanol (Spain) Jan'90 (free);St Mirren Nov'90 (free)[16-2];Reading Jan'92 (free)[1];Ayr United Feb'92[1];Fulham Sep'92[2];East Fife Aug'94 (player manager)[46+3-7];Home Farm Everton (Eire) Jan'97[1]
INTERNATIONALS Scotland 25 + 2 apps 4 gls
'80 v Por(s) 1gl,NIr,Pol,Hun 1 gl.'81 v Swe(s),Isr,NIr,Isr,NIr 1 gl.Eng.'82 v NIr,Por,Spa(s),Hol,NZ(s) 1gl,Bra,USSR.'83 v EGe,Swi(s),Bel.'84 v EGe,Eng,Fra 1gl.'85 v Spa,Eng,Ice(s).'86 v WGe.
HONOURS FAC wn (Tottenham Hotspur) '81,'82.FLC los (Tottenham Hotspur) '82.SLC (Aberdeen) '80. Spa Lg Ch (Barcelona) '85.UEFA Cp wn (Tottenham Hotspur) '84.Eur Cp los (Barcelona) '86.
 
Playing Statistics
FL        20 apps     6 gls
FAC       1 app
PO         1 app
Total  22 apps     6 gls
Penalty record T 1 Sv 1
Strike rate 330 mins
 
Summary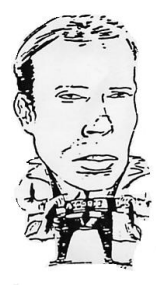 Archibald was Don Mackay's prestigious investment, taken on loan from an unhappy spell at Barcelona, and the most renowned player to be acquired for some time. At his best he was a quick, instinctive player, difficult to mark and a regular though not prolific goal scorer. At White Hart Lane he had contributed to FA and UEFA Cup glory but a fter a Spanish league champions' medal in 1985 his career had stalled. His charisma brought the fans back for a spell but play off failure ended the engagement and the expected impetus from Archibald was not as great as had been anticipated. He visited a few more clubs before hanging up his boots and embarked on a varied career. A Sky TV expert for a time he also made a 45 minute come back in the League of Ireland and was appointed an executive director of Benfica when Graeme Souness was their coach. In the summer of 2000 he stepped in to try and save the debt ridden Scottish club, Airdrie, but his status of preferred bidder hindered events and the club ultimately folded when he did not inject the necessary funds, having already invested over a quarter of a million pounds. He remained connected with the game, acting as agent to bring Spanish footballers to Britain. Although born in Glasgow, he was brought up in Rutherglen. He started works as an apprentice motor mechanic.