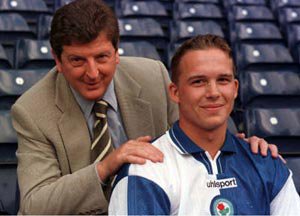 Content Count

3,570

Joined

Last visited

Days Won

6
He won't drop Bennett though, no chance.

Real do! Keep them both fit and that's 101points and promotion for us then 😁

I'd go three at the back, definitely not Bell or Williams as an out and out LB.

Walton looks far more dominant and assured than Raya ever did.

He'll have to play on Saturday 😣

Superb result. Deserved that IMO. Back to back clean sheets for King Degsie

We are so unlucky not to be winning. Such fine lines. Super penalty save, Rothwell to score when he comes on.

Absolute joke that. They should be ashamed.

He was a superb centre back and was twice player of the season for us in a talented side. I've got to say, when he snotted the smarmy Van Persie (who was also a sneakily dirty and cheating sod) and hoofed Dugarry clean up his diving arse - I was absolutely made up.

Yes it was. We had some great players but I would say that the likes of Todd, Warnock, Neill, Reid, Savage, Mokoena, Dickov (no doubt I've missed some very obvious ones too) were the uncompromising warriors in the team. Always willing to give their all and let the opposition know they were in one hell of a scrap for points.

I would happily watch Rovers play a guts n all style of play, week in, week out, than a tippy tappy, try to walk it in style that doesn't bring results. I was as happy watching Hughes' blood and thunder stuff as I was with King Kenny's awesome wing play. In fact, my favourite identity of Rovers was the 'Bully Boy' tag we rightfully earnt. Everyone to a man gave their all for the shirt and that's all I ever want to see - trophies are a bonus.

What a joke the pricing and quality is. I didn't have chance to eat before setting off so thought I'd grab a pie at the game. £3.60 or £5.50 for a pie and hot drink. I got the deal of the century and the hot chocolate was just hot, see-through fluid, the colour of shitty tea and tasted of nothing other than cardboard - so crap I even took a photo of it 😂. 100% will not be buying another thing from the concourse. Whoever is in charge of that, needs to quickly snap back into reality as I've never seen the queues so small.

A bit late to the party here but I really enjoyed yesterday. Loads of effort and fight. Good performances from all of the new signings, excellent shifts from Dack, Williams, Lenihan and Travis. Overall, a well earned 3 points.

I'd love the likes of him, Friedel and Tugay to still be connected to the club.

I am firmly in the Mowbray out camp again. It's just so disjointed, slap-dash and clueless. The obvious is rarely done and three games in, It's getting on my tits. We need someone who can build from the back, we concede two or more WAY too often and it isn't good enough. Make-shift players in unfavoured positions should only happen during an injury crisis, never as first choice - It's ridiculous.