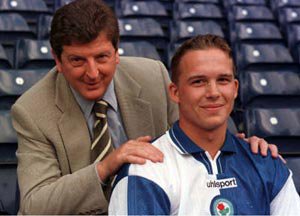 Content Count

3,721

Joined

Last visited

Days Won

6
It really is as simple as having a solid defence and playing as many players as possible in their proper positions. Lenihan has been a key player for us but Mowbray was massively to blame for sticking random players in random positions, having us tapping the ball about with poor movement and not pressing the opposition - he had lost the plot and deserved the fans on his back. The opposition were having a field day against Bennett at fullback, whipping in crosses towards non-dominant centre backs. Now, the teams selected play to the strengths of the players. I'm so glad he has seen sense and everyone to a man has upped their game so far, as we were massively underperforming. We seem to be focussing on our strengths, rather than the opposition's.

1 point off! What a fucking turnaround this last 3/4 weeks have been. Time to believe Rovers!

Superb performances. Bell was excellent today.

The sloppy passing in midfield drives me mad.

Ah, it said Rhodes on Sky bet. I thought draw too.

We've created good chances but also rode our luck. I can't see a clean sheet tbh so we need a couple more. Too many crosses coming in from our left side, although Bell has been much improved so far.

Might be some sendings off. Fighting in the tunnel

Four. Messageboard Gold this is 😂😂😂

If only he was Mowbray's type 😂

Bagged two in 13mins so far. Not bad for someone with no pace and who can't hold up the ball.

Isn't a Mowbray type striker in that he has a wealth of experience and can actually score goals? 😁

No, definitely Xavier. I know he was on trial but I have a vivid memory of him in a Rovers' shirt playing at fullback. It clearly didn't happen though 🤔

It wouldn't shock me if he came back. I don't think it is unrealistic.

How strange that you've brought this up this week. I was saying to my mate on the way to the match that I have a Mandela Effect memory of seeing Abel Xavier playing for us. He has is too and wouldn't believe me that he never played for us.