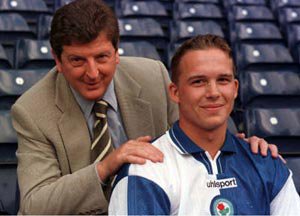 Content Count

3,999

Joined

Last visited

Days Won

8
Community Reputation
3,491
Excellent
I'd sign him. He's made some saves that reminded me of Friedel - I can't give a better compliment than that.

I think you missed the forearm smash to his face as he was about to go around him and the blood n thunder tackle he flew into to get his own back moments later. Like anyone, he needs a run of games. Not sure how anyone can be cocky during a warm up though 😁🤔

That's what I've been banging on about. It means so much and makes a massive difference. Against Fulham we were cagey, stood off and didn't commit forwards with any purpose for 75mins and ended up losing, yet Barnsley showed that they could be got at. Yesterday, we started off on the back foot but credit to Mowbray, he adjusted things and we then had the game in control. The manager and players need to stick to letting the opposition worry about us, not the other way around.

He will no doubt develop in strength. Pederson and Jansen were similar- easy to knock flying but within 18months, far stronger. Same will go with Brereton, He's holding off defenders far better now but he's only 20 too.

We did the simple stuff well. We passed well, fought for the ball when we needed to, excellent hold up and movement and made some excellent fouls to nip danger in the bud. That's all I ever want from a Rovers side and why I get so frustrated this season - it is 100% there for the taking. Nobody is special in this league.

I thought he did some good layoffs and movements. He's looked much better the last few times off the bench. In fairness to him, he IS a young player. When he ran the ball out though...dopey git.

Excellent win. Very assured performance and some top class saves to boot. Can't ask for any more than that 😁

Buckley's had his best game yet. Must be worth £15m after that.

His control and movement was excellent. Super comeback game.

Evidence if ever that we should build from the back. In fairness, apart from Bell only being 'capable' at best - we look much more solid.

The passing and movement so much better today. Walton has made superb saves too - so not all one way traffic. I hope we keep at them 2nd half. I Don't like it when we try to sit back - that's when we are at our worst.

One is when Bell is doing it, the other Armstrong.

I haven't seen it back but did the keeper go right through Brereton? I thought it was an obvious penalty but obviously the ref had other ideas? Superb goal by Armstrong.

First half. There were a few occasions where there were some scrambles around the 6 yard box.