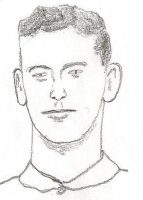 Attributes
5'10"  11st.8lb.
b. Cape Town (South Africa) 20 October 1881
d. Chorlton cum Hardy 29 November 1934
 
Career
Debut 4 October 1913 (31 y 349d) Final Game 6 March 1915 (33y 137d)
CAREER: Ayr Spring Vale;Ayr Westerlea;Ayr Parkhouse;Manchester United Jan'03 (£700)[278-11];Blackburn Rovers Jul'13-15 (£700);Ayr Jan'20 (free);Clackmannan Sep'21.
INTERNATIONALS  Scotland 1 app
'12 v Ire.
HONOURS FL Ch (Manchester United) '08,'11.FAC win (Manchester United) '09.
 
Playing Statistics
FL       11 apps
FAC     1 apps
Total   12 apps
LC        1 app
 
Summary
Although born in South Africa he grew up in Scotland but moved south to become part of a legendary Manchester United half back line, in the process making nearly 300 appearances. He came to Blackburn because he had a dispute with United who were unwilling to provide him with a second benefit because he was on the maximum wage. Accordingly it was agreed that he could keep half of the transfer fee the Rovers paid. Although his powers were on the decline he was always reliable when called upon. He retired from playing after serving in Salonika during the war and was appointed trainer at Coventry in 1922 and three years later took a similar appointment with Manchester City. He later returned to Ayr where he resumed his old occupation as a joiner.