Forename(s)
David Michael
Attributes
5'10" 11st.
b. Peterborough 27 August 1984
 
Career
Debut 11 September 2005 (21y 15d)  Final Game 1 April 2013 (28y 217d)
First Goal 30 November 2005 Final Goal 24 February 2008
CAREER: Highams Park School;Charlton Youth;East Anglia Youth;Wormley Youth;Arsenal Sep'01[1];Norwich City Jun'04-Jun'05 (loan)[22+4-2];Blackburn Rovers Aug'05 (loan) Jan'06 (£500,000);Tottenham Hotspur Jul'08 –Jun'13(£14,500,000)[32+10-2];Birmingham City Jan'11-Jun'11 (loan)[9+4];West Ham United Aug'11-Oct'11 (loan)[2+3];FC Rostov (Russia) Sep'12-Oct'12 (loan);Blackburn Rovers Feb'13-Jun'13 (loan).
INTERNATIONALS England 1 + 6 apps
'08 v Isr(s),Aut(s),Swi,Fra(s),USA(s),Tri(s).'09 v Cze(s).
SQUAD NUMBER  29 Aug'05 - 11 Aug'06 – 35 Feb'13.
 
Playing Statistics
PL       100 + 7 apps   13 gls  -26 wdn   3g 1                                  13 ns
FAC       9 + 1 app       2 gls   -  2 wdn                                            1 ns
FLC       9 apps            2 gls    - 4 wdn                                            1 ns
UEFA 12 apps            4 gls
IT         2 apps                         - 1 wdn
Total 132 + 8 apps   21 gls  -33 wdn  + 211m -578m et 54 m         15 ns
Sent off   1
 
Summary
Born in Peterborough, where his father was serving in the RAF, Bentley went to Belgium when he was a toddler before returning to spent most of his childhood in Cheshunt although the family later lived in Enfield. His parents were originally from Rochdale and his father had played for the Rovers' junior teams. At the age of 13 he started to attend the Arsenal school and progressed through their junior teams and the England age group sides. Despite his promise his Arsenal career was virtually confined to League Cup appearances and he spent a season on loan to Norwich in order to gain experience. His clever, constructive play made him at home in the Premiership and he came to Ewood on a similar arrangement following Norwich's relegation. Within six months his permanent transfer was negotiated, a testimony to the technical excellence of his play and his versatility in playing anywhere in midfield and in the hole behind the striker. The following season his true role was confirmed when his ability to hit undefendable, raking crosses from the right touchline earned him recognition with the England Under 21s and the Rovers' Player of the Year award. A close season decision not to play for the England Under 21 side in the European Championship appeared likely to blight his full international prospects but by September he was in the squad and gained his first cap when he came on as substitute against Israel. By the end of the season he was recognised as one of the outstanding players in the game, a position which prompted him to ask for his release so that he could better himself. His transfer to Tottenham brought in a massive sum but this was somewhat diluted by a sell on clause agreed with Arsenal which sent some 40% of this to The Emirates. The move did not work out for Bentley, who found himself out of consideration for most of the season, first with Juande Ramos and then with Harry Redknapp. A loan move to Birmingham was followed by another to West Ham, which was terminated by a knee injury that kept him out of the game for most of the season. He came back to the Rovers on loan in February 2013 but the form and fitness that had eluded him in the years since his departure proved to be elusive. Out of contract at Tottenham he received no offers sufficient to tempt him to play again and he moved to Spain where he had interests in a restaurant in Marbella. In 2015 he starred in a documentary that saw him play Gaelic Football for Crosmaglen Rangers.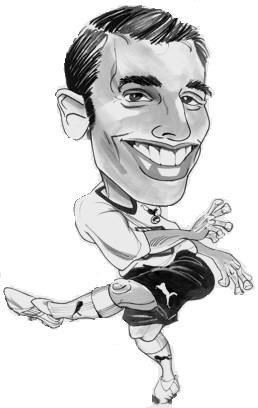 Edited by Kamy100