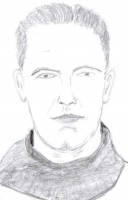 Attributes
5'9"  10st.4lb.
b. Burnhope 19 July 1913
d. Newcastle 15 September 1969
 
Career
Debut 11 April 1936 (22y 264d) Final Game 6 April 1946 (32y 261d)
CAREER: Durham City;Blyth Spartans Jun'33; Durham City; Blyth Spartans Jan'35;Blackburn Rovers Mar'35;Darlington Jun'46-May'47 (free)[26].
HONOURS 2nd Div Ch (Blackburn Rovers) '39.
 
Playing Statistics
FL        76 apps
FAC      7 apps
Total   83 apps
Penalty Record  F 7 Sc 3 Sv 1 M 1
Minutes per goal 61  Clean Sheet % 31
Longest unbeaten  254m First conceded 108m
LC          6 apps
Minutes per goal 60  Clean Sheet %  17
War time
NWRL  1 app
NL       24 apps
FLWC  10 apps
Penalty record  F 3 Sc 2 Sv 1
Minutes per goal  42  Clean Sheet %  11
Most goals one game  8
 
Summary
A former miner who established himself slowly with the Rovers he had the misfortune to reach the peak of his career just as the war terminated the Football League. Although he played a great deal of war time football with Bradford City, Gateshead, York, Darlington and Newcastle, Blackburn's new manager, Eddie Hapgood, decided to bring in his own goalkeeper (George Marks). Moving back to the north-east Barron entered the licensed trade and sired a son of the same name, who enjoyed a long and distinguished league career in his father's position.