Position(s)
Right Winger/Centre Forward
Attributes
6 1.5"  12st.2lb.
b. Rainford  14 May 1929
 
Career
Debut  21 November 1959 (30y 191d) Final Game 26 November 1960 (31y 196d)
First Goal 5 December 1959 Final Goal 22 October 1960
CAREER: Bushey Lane C o E School; Rainford Sec Mod;Rainford North End '46;Burscough '48;Royal Engineers (Villack, Austria); British Troops (Austria);Burscough Aug'52;Liverpool Jan'53 (£1,250)[86-37];Blackburn Rovers Nov'59 (£6,000);Bournemouth & Boscombe Athletic Feb'61 (£4,000) [11-1];Rochdale Aug'61[54-15];Wigan Athletic Jul'63;Burscough.
HONOURS FAC los (Blackburn Rovers) '60.FLC los (Rochdale) '62.
 
Playing Statistics
FL          22 apps     5 gls
FAC         7 apps     3 gls
Total     29 apps     8 gls
Strike rate 326 mins
 
Summary
Born and raised in Rainford his career was not helped by the fact that the local pitch was commandeered for the "dig for victory" campaign so at least national service in Austria allowed him to play the game regularly. Returning home he moved just down the road to Burscough and when given his debut in the Liverpool Combination he was such a sensation that it was inevitable that he would find his way to Anfield. He scored seven goals on his debut and did not play a full season before he was transferred. A deputy to Billy Liddell he tallied a respectable goal total and earned respect as a powerful, committed, honest player who could provide muscle and application. He came to Ewood to add cover to a talented team who had no depth but found himself immediately introduced on the right wing because of the transfer of Roy Vernon. Sadly his best days were behind him and although he ran honestly he brought no great pace or game breaking talent. Ironically in the downside of his career he started to collect medals playing on the losing side in the FA Cup final (with the Rovers) and the FL Cup final (with Rochdale).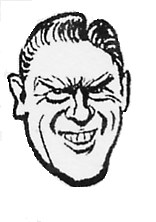 Edited by Kamy100