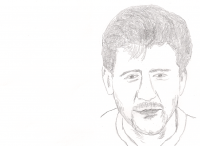 Attributes
5'11" 11st.
b. Waterford 29 July 1963
 
Career
Debut 13 October 1990 (27y 76d) Final Game 11 November 1990 (27y 105d)
CAREER: De La Salle College,Waterford;Bolton;Bohemians;Shamrock Rovers;Liverpool May'83[64-2];Leeds United Jul'89 (free)-Jul'91[18+1];Plymouth Argyle Nov'89 (loan)[5];Blackburn Rovers Oct'90 (loan).
INTERNATIONALS   Republic of Ireland 14 + 1 apps
'84 v Chn.'85 v Mex,Den,Ita,Isr,Eng,Nor,Swi.'86 v Swe,USSR,Den,Wal.'87 v Bel(s),Sco,Pol.
HONOURS FL Ch (Liverpool) '86.FAC win (Liverpool) '86.2nd Div Ch (Leeds United) '90.
 
Playing Statistics
FL       6 apps
Summary
Having started his career with Shamrock Rovers when the club was having financial troubles, Beglin provided them with the life-line of his transfer fee to Liverpool. Frustrated by the presence of Alan Kennedy he spent much time in the reserves but his sweet left foot and the coolness with which he performed marked him as an asset for the future. When Kennedy was injured he stepped in and was immediately at home in a side that had been League champions the previous year. Present in the tragic European Cup Final at the Heysel Stadium, the subsequent ban on English clubs prevented him playing in European competition but he gained international experience with the Republic of Ireland. In 1987 he broke his leg in the Merseyside derby and subsequently never played to the same standard. His spell on loan at Ewood added stability to a suspect position but was brief. Articulate and informed he took readily to broadcasting and obtained positions commenting on the game with RTE and Granada.