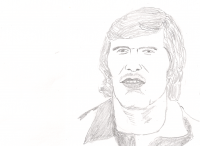 Forename(s)
Kenneth George
Attributes
6'0" 12st.6lb.
b. Birkenhead 25 August 1947
 
Career
Debut 17 August 1974 (27y 2d) Final Game 25 September 1976 (29y 31d)
First Goal 17 August 1974 Final Goal 1 September 1976
CAREER: Stork;Tranmere Rovers Jul'66[176+1-49];Brighton & Hove Albion Mar'72 (£25,000 + Duffy)[86+10-27];Blackburn Rovers May'74 (£25,000);Port Vale Sep'76 (£12,000)[84+1-29];Bury Sep'78 (£3,000)[49-20];Tranmere Rovers Nov'79 (£10,000)[57+2-15];Swindon Town May'81 (free)[1+1].
HONOURS 3rd Div Ch (Blackburn Rovers) '75.
 
Playing Statistics
FL         86 apps    18 gls    - 7 wdn
FAC       3  apps      2 gls
FLC        9  apps      5 gls    - 1 wdn
Total    98 apps     25 gls    - 8 wdn  -187m
Strike rate 345 mins
ASC       6 apps       3 gls
 
Summary
Ken Beamish came to Ewood because Brian Clough had taken over at Brighton and was not impressed with the player's lack of balance or poise. Conversely Gordon Lee had taken over at Blackburn and was more used to life in the Third Division and saw Beamish's hustle, effort and physical qualities as ideal for the task ahead. Despite being erratic in front of goal he contributed to the club's immediate championship even finding quasi cult status among the fans who for years after chanted "Beamo" whenever anyone missed badly. In the Second Division he struggled but still found plenty of clubs looking for his particular qualities over the next six years. A brief try at management with Swindon was sufficient to tell him he had no gift for this and he returned to live locally. When he had played for the Rovers he had lived in Euxton where he became a huge favourite due to his involvement in local charity work. This experience proved ideal for his future role down at Ewood where for many years he was involved as Commercial Manager. He retired when he was 65 but started part-time work for AFC Fylde.