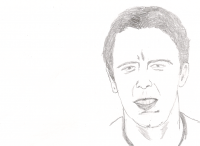 Forename(s)
Russell Peter
Attributes
5'6"  9st.
b. Wigan 28 September 1968
Career
Debut 26 December 1991 (23y 89d) Final Game 28 December 1991 (23y 91d)
CAREER: Byrchall HS;Atherton Collieries;Manchester United Oct'86 (app Jun'85)[30+26-4];Blackburn Rovers Dec'91 (loan);Bournemouth Jun'93 (free)[167+11-4].
 
Playing Statistics
FL     1 + 1 apps  +22m        1 ns
Summary
t was ironic that after Manchester United found the frail but talented winger not robust enough for the top flight and Kenny Dalglish echoed the sentiments when he took him on loan, Beardsmore eventually made a career for himself in the lower divisions at full back. As a creative defender he was a fixture for Bournemouth before chronic back trouble caused his retirement. Immediately he was offered the position of Assistant Community Development officer at the Reebok Stadium. He later worked with Bournemouth Community Sports Trust and helped in the hospitality suites at Old Trafford.