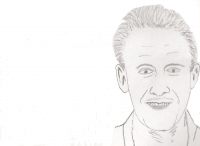 Attributes
5'9" 10st.11lb.
b. Farnworth 4 November 1964
 
Career
Debut 29 October 1983 (18y 359d) Final Game 7 May 1988 (23y 184d)
First Goal 26 December 1983 Final Goal 7 May 1988
CAREER: Clifton County PS;Pendlebury HS;Winton United;Bury (trial);Manchester United (trial);West Bromwich Albion (trial);Blackpool (trial);Everton (trial);Bristol City (trial);Crystal Palace (trial);Blackburn Rovers  Jul'80(ass sch) Nov'82; Queens Park Rangers Jul'88 (£400,000)[291+24-33];Port Vale Sep'98-Dec'99[26+6-2].
HONOURS FMC win (Blackburn Rovers) '87.
 
Playing Statistics
FL       180 + 2 apps      35 gls  -4 wdn                                                   3 ns    1 og
FAC     11 apps
FLC       9 apps               4 gls  -1 wdn
FMC     6 apps               2 gls
PO         2 apps
Total  208 + 2 apps      41 gls    -5 wdn   +37m -134m  et 30m          3 ns    1 og
Penalty Record  T 15 Sc 13 Sv 1 M 1
Sent off 2
LC       15 apps               3 gls                                                                    4 ns
FAYC  3 apps
 
Summary
Barker made his name as a right sided midfield player who was an adept passer, particularly with his speciality, the angled ball played past the inside of the left back to free his right winger. A competitive individual, marking was not his strongest point but he could shoot with power and missed only two of 15 competitive penalties. Recognition came in the form of England Under 21 caps and when in the final of the Full Members' Cup in 1987 he was deservedly named man of the match for a performance of both fire and culture. With the club failing to make progress it was inevitable that he would move and he joined Queens Park Rangers for a large fee. In all he was to remain with them for ten years and received a testimonial game against Jamaica's World Cup team in recognition of his outstanding contribution. After a brief spell with Port Vale he retired but went back into education at Manchester Metropolitan University and Manchester Business School. He then joined the PFA agency that assisted with player contracts. He also became a trustee of the PFA Pension Scheme and the National Football Museum.