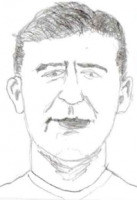 Forename(s)
Thomas Thornton
Position(s)
Half Back/Full Back
Attributes
5'10.5" 12st.
b. Blackburn 18 April 1907
d. Blackburn 23 December 1981
 
Career
Debut 9 March 1929 (21y 325d) Final Game 24 October 1931 (24y 189d)
CAREER: Parish Higher Grade School;Blackburn CE Central School;Blackburn Corinthians;Blackburn Works XI;Blackburn Rovers Jan'27( pro)-Jan'32 (£10);Blackburn Police.
 
Playing Statistics
FL       36 apps
FAC     3 apps
CS         1 app
Total   40 apps
LC        2 app
 
Summary
He was one of the stars of the town team that in 1920 reached the semi-final of the English Schools' Competition, losing to Stockport after a replay. During his schooldays he twice helped his team win the Harry Boyle Cup and with the Corinthians he won a Hamer's Cup winners medal. He was playing with the Rovers as an amateur in 1927 when the foundry in which he worked closed down, resulting in him losing his apprenticeship as an engineer. Forced to seek alternative employment he was on the point of joining the town's police force when the Rovers offered him professional terms. Although initially a centre-half, he was moved to right back and made his first team debut there, as Jock Hutton's deputy. Although he saw plenty of first team action he realised that he was never going to become a first team regular and so in 1932 he joined the police, with whom he served for more than 25 years. He was still playing with the police team in the early years of the war.