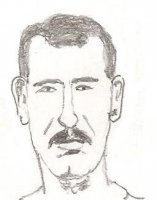 Forename(s)
William Henry
Attributes
5'8"  11st.8lb.
b.  Toxteth, Liverpool  1875 (baptised 18 July 1875 St John the Baptist Church, Toxteth)
d. Liverpool  OND 1926
 
Career
Debut 9 October 1897  Final Game 28 September 1901
CAREER: Liverpool South End; Rock Ferry, Blackburn Rovers May'97;Everton May'98;Notts County May'99[65-2];Blackburn Rovers May'01;(Belgium)'01;Manchester United Oct'02-'03[4].
 
Playing Statistics
FL        20 apps      1 og
LC         4 apps
 
Summary
Ball was the son of Peter Ball, who checked weighing machines on the market, and Mary Ball who was born in Ireland. A stalwart wing half he made the transition from Rock Ferry to the First Division with ease but the Rovers were in disarray and they allowed him to join Everton. A surfeit of half backs caused him to move on to Notts County where he played well. After indicating he would welcome a return to Ewood he was re-engaged but sprained an ankle in his third game. The club declined to offer him a year's contract until they were sure he was fit and the player declined the offer of a month's trial. He took the unusual step of proving his fitness on the continent before returning to England where Manchester United offered him terms. He served his time as a plumber and continued in this occupation whilst he was playing. After his playing days were over he returned to Liverpool, continuing to work as a plumber.