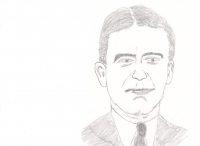 Attributes
5'7" 10st.8lb.
b. Blackburn 1 April 1908
d. Lytham 22 June 1971                                                                                                                                                                     
Career
Debut  14 September 1929 (21y 166d) Final Game 28 March 1931 (22y 361d)
First Goal 14 September 1929 Final Goal 1 January 1930
CAREER: Parish Church Higher Grade School;CE Central School;Blackburn YMCA;Blackburn Corinthians;Blackburn Rovers May'27 (am) Nov'27 (pro);Burnley May'32-May'34 (free) [31-9];Gillingham Jun'34[14-6];Luton Town Nov'34-Feb'37[46-15].
 
Playing Statistics
FL     20 apps  5 gls
LC       2 apps
 
Summary
Although in his early teens  Crompton was taller than his schoolmates he did not develop the same build as his immortal father, Bob. He was in his school side that won the Harry Boyle Cup in 1921 and played right wing for the Corinthians when they won the Ernest Hamer cup in 1926. A year later the Rovers asked him to play with their junior sides but it was sometime before they offered him professional terms. A quick winger who could score goals his career at Ewood was blighted by the arrival of Jack Bruton, although it freed up a spot in Burnley that for a time he filled.