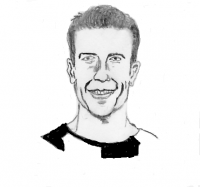 Attributes
6'1"  12st.11lb.
b. Glattbrugg  21 November 1977
 
Career
Debut 10 February 2007 (29y 81d) Final Game 11 February 2008 (30y 82d)
CAREER: FC Glattbrugg '85;Grasshopers Club Zurich '92;Real Oviedo (Spain) Nov'99-May'00 (loan);SC Freiburg (Germany) Jun '02;FC Basel Jun'05;Blackburn Rovers Jan'07-Jun'08;Norwich City Jul'08 (trial):Leicester City Sep'08-Jun'12 (free)[70+14-8].
INTERNATIONALS  Switzerland  10 + 6 apps
'02 v Aut,Yug,Hun.'03 v Geo(s),Svk,Geo,Ita(s),Rus(s),Alb.'04 v Fra,Rus,Mor(s),Gre,Svk,Ger(s),Lei(s).
HONOURS Swiss Ch (Grasshoppers) '01.Ger D2 (Freiburg) '03.Lg 1 (Leicester) '09.
SQUAD NUMBER  25 Jan'07.    
 
Playing Statistics
PL          3 apps                                               6 ns
FAC       2 apps       - 1 wdn
FLC        1 app
IT                                                                       1 ns
Total      6 apps       - 1 wdn     - 22m            7 ns
LC 1 app
 
Summary
The experienced Swiss international defender came on trial for a week in January 2007 and was signed for a small fee before the transfer deadline. His ability to play in a variety of positions and his experience were judged to be ideal complements to the squad despite Steve Warnock having been brought in at left back only days earlier. A product of the Grasshoppers youth system he had three seasons in Germany and also played in the European Championship in 2004. At Freiburg he (and another Swiss  with Blackburn connections, Oumar Konde) had helped the club into the top flight of the Bundesliga. Having played little in his first half season he broke a metatarsal in the close season of 2007 but recovered more quickly than anticipated. However with Warnock in command of the first team place and Olsson developing, he was released when his contract expired in 2008. Although rejected by Norwich, he gained a contract with Leicester and helped then become champions of Division One.In June 2012 he was appointed as coach to the FC Zurich under 15 side. He subsequently coached the Swiss sides, FC Tuggen *commenced Nov'16) and SC Kriens (commenced Jul'17).