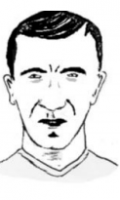 Attributes
5'9.5"  11st.10lb.
b. Southport 16 February 1890
d. Rochdale JFM 1959 (age 68)
 
Career
Debut 19 April 1919 (29y 62d) Final Game 3 January 1920 (29y 321d)
CAREER: Holy Trinity;Southport Working Lads Club;Southport Park Villa;National Telephone Co.;Burnley'12;Rochdale Nov'12[18];Blackburn Rovers Mar'19;Merthyr Town '20;Pontypridd '20;Rochdale Oct'21;Colwyn Bay  Jul'22;Chester Jul'24-May'26;Manchester North End Aug'26;Ashton National May'28;Lytham St Annes.
HONOURS Wel Cp los (Pontypridd) '21.
 
Playing Statistics
FL         1 app
FAC     1 app
Total    2 apps
War time
SC         1 app
 
Summary
An employee of the National Telephone Co. he gained attention when he played for the Southport League against the Irish Football Alliance and the Birmingham League. He joined Rochdale who converted him from centre forward and soon he gained a reputation for long kicking and fearless tackling. During the war he captained the Royal Engineers Signals' team who were stationed at Dunstable and it was no surprise that he moved upwards to join the Rovers. Within a week he lost his four year old son and for some time he was badly affected by it so that his Ewood career never took off.