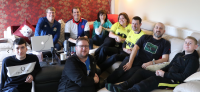 The BRFCS pod squad meets up & records in person for the first time ever. A rendezvous in Sheffield ahead of the game against the Blades (perhaps just as well as events unfolded) providing an opportunity to review 2018's highs & lows, "Defend the Indefensible" and play "Name That Rover".
Many thanks to Mike Delap, Jen Bellamy, Linz Lewis, Scott Sumner, Michael Taylor, Matt Grimshaw (young apprentice podcaster), Stuart Grimshaw & Louis G for their contributions. Blame Ian Herbert for the editing.
Also available on YouTube if you want to see the "red button" highlights !