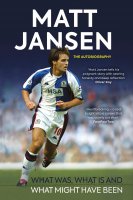 After several weeks of planning and preparation, BRFCS meets a Rovers legend in the form of the one & only Mr Matt Jansen together with the man who helped him to write his new book - journalist & writer, Jon Colman in a special podcast episode in which we also launch a new sponsorship deal.
Listen carefully for details of our exclusive discount deals for BRFCS podcast listeners at theterracestore.com but most of all listen to Matt's story; from the perspective of the writer & the man himself.
Interviews conducted by Ian Herbert.
Edited by Herbie6590