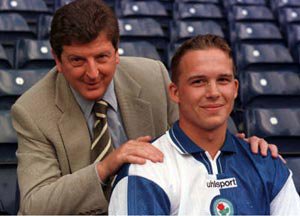 Posts

4104

Joined

Last visited

Days Won

8
Profiles
Forums
Gallery
Blogs
Everything posted by Pedro
They didn't need to defend well because we were so slow and gave possession back time after time. The keeper was worked once by Gallagher on that 1 on 1, the rest were poor, paceless efforts that any dad could save.

It is funny because, personally I wanted to jump on the pitch, ram those gloves up his arse and give him a damn good shaking - he was playing so cowardly. The players themselves weren't passing out wide to him because they probably knew a feeble cross would come in or he'd lose possession and from memory, his best cross was a low mis-hit effort in the second half - after he scuffed the ball and it caught the defender out. It's splitting hairs though because too many didn't turn up last night. If they put in as much fight and effort as Travis, we'd be turning teams over.

It's the lethargic attacking. Pissing about knocking the ball across our own box or along the halfway line whilst the opposition reset themselves. It's nothing short of pathetic. We need to hit these teams quick, stretch them and get the ball up the other end in three - five touches - not twenty to thirty.

It is Bell's work around the opposition's box I have issue with. He looks so scared to put his body on the line and incapable of putting quality balls into the box.

Mowbray must simply be an idiot. He won't ever win me over. Familiar, slow, gutless approach, too long to make changes to a huffing and puffing side, Gallagher out wide is just an utterly crap idea - so we get ANOTHER predictable result against another poor team. In my view, he bottled it yet again because he was more concerned with simply not losing. I'd rather have lost that game through having a real go at Stoke. Instead, we ran the clock down for them. ...and don't get me started on the passing and Amari Bell!!!

This passing is pathetic.

Poor half. Tinkering Tony strikes again. Fingers crossed for a more balanced look about the side second half.

Fixed seating so that families can sit together...you are all very closely related anyway aren't you? ??

In every league in the world, it was an absolute screamer. Nobody is stopping that shit. Alongside Armstrong, Walton has been a stand out player in 2020.

Honestly, I'd sign him tomorrow.

...and in the blink of an eye, we are 5points off the playoffs. Football is a bastard. I hate it and love it in equal measure.

He's a poor, poor referee. Many are these days.

Was their 1st offside? I've not seen a good angle of it.

Buckley got wiped out. No question at all - a free kick anywhere on the pitch. Raya has done that a couple of times for us - he's thick.

Throwing far too many points away. Frustrating seeing us surrender the ball so cheaply and so often - especially with this possession play we apparently have. Both teams with lots of clear chances. Brentford the far better footballing side but that doesn't mean much. A good point in the end but never a penalty for them. One major plus - the sixty mins we were in the playoffs may become the stuff of legend.

Come on, let's feckin snatch this!

Terrible ball retention by Rovers. It is infuriating. Never a penalty but I don't see why ours wasn't - Raya lost the ball and flattened Buckley.

Our basic passing drives me up the wall!

Seriously, I don't know if you are muddling my arguement with someone else's. I said things are similar but Bowyer's squad had more value. It clearly did...and you said Dack is worth more than them combined - which I think he is nowhere near (I forgot Josh King too btw). That Bowyer team had a number of top-flight quality players - as mentioned, many who have spent a number of seasons there. There was no mention whatsoever about who signed who etc. So I'm annoyed by that side of your arguement. Regardless, what would that list of Bowyer's players be worth now?? Currently, I'd say a fit Dack has a chance of playing top flight. I'm not a big fan of Lenihan at all, reckless and panics when facing his own keeper - but I reckon he would interest someone. I honestly can see Nyambe interesting teams in the Prem. Possibly Armstrong at a real push. Travis, no chance - not until he stops gifting the ball away. They aren't the same class of player as what we had under Bowyer - but I'd say that is a damning reflection of the Championship. Some very poor quality teams in it these days. The basic passing etc. drives me up the wall.

I totally respect what you say there. I think that Mowbray is very similar to Bowyer - he can spot a good lower-league player/reserve and is a largely capable manager and thoroughly decent guy. I personally think we need more than that though, someone more demanding , even ruthless, like Hughes/Souness because we lack belief, presence and fight. Who knows though - maybe things fall into place. I certainly hope so.

What arguement are you wittering on about? Nobody gives a shit who signed who. So, with the greatest respect how about you re-read the crap you posted, then come back to me. Or be a man, hold up your hands and say, "Actually, I got that one wrong because I forgot about those decent players".

Who said you denied the existence of it? It was the impending threat of us being unable to spend that you skirted around. What's with the rewriting of history nonsense? I try to state facts...unlike shite such as no other manager would come to Rovers etc.

You are talking absolute nonsense. Dack currently has no value - that's a sad fact. Despite your claim, at his fittest and best, he isn't worth more than the combined total of those I listed - which is another fact. Duffy went for £5m + Dann £4.5m Hanley £5m + Cairney £3m Rhodes £8m Gestede £6m Also, I have no idea why you are trying to bring who bought who into play...oh yes I do - to strengthen that nonsensical arguement of yours.

Yes, really. During a number of your deny any criticism at all costs defences of Mowbray. Like a number of the more balanced said (who you like to simply refer to as the Mowbray Out brigade), the wasteful big money signings brought FFP right back to the door. Only hindsight and an interview in the Telegraph has shown you that it actually has. Anyway, it is going to be a very slow build if we don't sell a big asset this summer or rake in some serious revenue. It's looking like Nyambe and Armstrong will command the highest feed imo.

Funny how times change. We were pointing this out to YOU before. Now you're the self-proclaimed expert on it ?