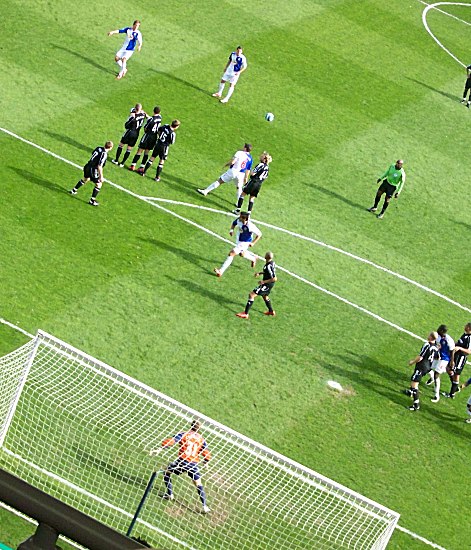 Blackburn Rovers vs. Derby County
Saturday 13th April 2013
KO: 15:00
Ewood Park
I was originally hoping to write more of an in-depth preview for this match, however, my passion for just about anything Rovers has been well and truly broken by another season of Venky's horror show, and I'm afraid you'll have to make do with this.
As the grim spectre of League One football looms ever large over this once proud club, Gary Bowyer's "team" go into this game in desperate need of three points against an in-form Derby side which has won three of their last five outings. Will the footballing gods offer a cruel glimmer of hope to the Ewood Park faithful or will it be another nail in the coffin?
Derby County FC
CLUB RECORDS:
Record all-time goalscorer: Steve Bloomer, 332 (1892-1905, 1910-13)
Record league appearances: Kevin Hector, 589 (1966-77, 1980-81)
Record league win(s): 9–0 vs. Wolves (10 January 1891), 9-0 vs. Sheffield Wednesday (21 January 1899)
Record league defeat(s): 0-8 vs. Blackburn (3 January 1891), 0-8 vs. Sunderland (1 September 1894)
Record fee paid: £3.5m to Norwich City for Robert Earnshaw (2007)
Record fee received: £7m from Leeds United for Seth Johnson (2001)
Record attendance (Pride Park): 33,378 vs. Liverpool (18 March 2000)
Most capped player: Deon Burton, 42 (Jamaica)
FORMER ROVERS/RAMS:
Lars Bohinen
Jeff Kenna
Christian Dailly
Lee Carsley
James McEveley
Andy Todd
Robbie Savage
Frank Fielding
Jake Kean (trainee)
David Jones
Probably missing a whole bunch. Fill in the gaps!
HEAD TO HEAD:
Last ten meetings:
Derby 0 ROVERS 3 (26 Jan 2013) FAC
Derby 1 Rovers 1 (20 Oct 2012) LG
ROVERS 3 - Derby 1 (03 May 2008) LG
Derby 1 - ROVERS 2 (30 Dec 2007) LG
Rovers 0 - DERBY 1 (29 Dec 2001) LG
DERBY 2 - Rovers 1 (18 Aug 2001) LG
Derby 2 - ROVERS 5 (07 Feb 2001) FAC
Rovers 0 - Derby 0 (27 Jan 2001) FAC
DERBY 1 - Rovers 0 (16 Jan 1999) LG
Rovers 0 - Derby 0 (15 Aug 1998) LG
CURRENT FORM GUIDE:
Rovers: LDDLL
Derby: LWWWL
HOW THEY SEE IT:
Thanks to the good people at DCFCFans.co.uk for taking time out for some Q&A.
Q1. Derby have been on a decent run of late, notching 3 wins in 5. What kind of season has it been so far and where do you expect to finish?
Mr Tibbs: Inconsistent season as the last few have been, expect us to finish 12th.
CumbrianRam: Pretty average, inconsistent but performances massive improvement on last season.
AndyB: We're solid mid table. We were last season and haven't invested in the squad this season.
RamNut: Its been another typical Derby season. Ultimately disappointing but some progress. We'll finish somewhere amongst the also rans. (we are like those people you see in marathons who cross the line dressed as a pantomime horse)
Leicester Ram: Inconistent, which is a drawback to such a young team. We should have added in January, if we had I'm confident we'd be in and around the top 6 right now. Had a patchy run after January where some new signings would have been the difference.
Duracell: It's been much better than what we've been served up in recent years, but still not the most memorable of seasons. When we're good, we're good, when we're bad, we're pretty bad. I expect to finish upper mid-table.
Q2. Nigel Clough has been managing the club for over four years now. Do you still believe he's the right man for the job?
Mr Tibbs: Probably yes. He's not doing a bad job but it would be nice to see some serious improvement next year. Content.
CumbrianRam: For the moment, yes but I think next season is make or break for him. His lack of subs sometimes frustrate me.
AndyB: Yes he's doing a great job with the resources at his disposal.
RamNut: Probably......on the basis that Brian isn't available
Leicester Ram: Next year is it for him, if we aren't in the play-offs then he'll lose the fans backing and be pushed out.He's done a good job with what he's had, but maybe a new manager who's better tactically could take the team he's built to the PL.
Duracell: Funny one, this. He polarises opinion and that's because he has plenty of plus and negative points, in equal measure. The plusses are some fantastic wins against the clubs that matter (Forest, Leeds), blooding in some youth players, unearthing some gems from the lower leagues and improving us whilst slashing the wage bill. The negatives are our woeful away form, his frustrating and often rigid tactics, and a rather uncharismatic manner which is often perceived to be a lack of ambition and drive from some fans.
Q3. What are your thoughts about Venky's (if any) and foreign ownership in general?
Mr Tibbs: Don't know that much if I'm honest, from an outsider who see's the bad headlines every other month i'd say you could do with some new owners though! That Shebby Singh sounds like a clown.
CumbrianRam: We had terrible owners in the mid-2000s so we know the feeling, however they were British. I am not against foreign owners but the fit and proper person test needs strengthened.
AndyB: Venkys are a joke I feel sorry for you. I'm not in favour of foreign owners as I don 't see a football club as a normal business.
RamNut: We also have foreign owners and we are almost all universally in favour of them. The lack of substantial investment in players is obviously good. No financial risks. And there is the added benefit that they don't have the same emotional attachment to the club that we have. As a result we just tick along......and take out our frustrations on each other and the players like a load of stressed battery hens........oops sorry. As for the Venkys.....why would anyone expect a bunch of Indian chicken farmers to successfully run a football club? And what is the fascination with all the slap head managers? Blackburn are massively under performing, but still smashed us out of the cup.
Leicester Ram: I feel sorry for you lot but don't know much about the Venky's. I have nothing against foreign ownership but believe that just buying your way to success will eventually backfire. A lot of clubs do that in this league but I'd rather follow in the footsteps of clubs like Swansea than QPR.
Duracell: My owners could be from Mars for all I care, so long as they know how to run a football club. Venky's are an embarrassment to football, and it's an absolute joke (though not a very funny one for Blackburn fans, I'm sure). What sums up football today is the media's coverage of the Venky's saga. When you were in the Prem, it's all you heard about, now you've dropped down a league the media seems to have dropped the issue completely, as if you've lost all your fans or anyone who cares since you went down.
Q4. Who are Derby's danger-men and what can we expect from you tactically?
Mr Tibbs: Jamie Ward is our main attacking outlet. Our strikers will unsettle your defenders but won't trouble your keeper very often. We like to get the ball down as often as possible but with all NPC teams there's plenty of hoofing throughout. A deep lying 4-4-2 as we're away from home.
CumbrianRam: Our two best players Will Hughes and John Brayford are out injured, so I'd say so Ward mind you with our strikers we need about 10 chances to score a goal.
AndyB: We'll play well but may win lose or draw. Martin, Ward and Hendrick are our danger men in our current starting 11. We'll play 442 and try to keep possession which may or may not come off as our players are quite inexperienced at this level.
RamNut: We don't really have any danger men. Our new tactic is for the whole team to try and walk the ball into the net. Sometimes our centre halves manage to deflect something in.
Leicester Ram: Hughes and Brayford are the two quality players in the side who I believe will play in the Premier League, but they're both injured (or being rested so they can be sold, if you believe the conspiracy theories). Ward is our attacking threat and our young CM Hendrick is a goal threat from midfield. He's another good talent, box to box midfielder who can hit a ball.
Duracell: Would say Will Hughes, Jamie Ward or John Brayford, but they're all out injured (and the conspiracy theorists are having a wonderful time with this). You're next looking at Jeff Hendrick to do something I guess. But really, we're pretty poor away from home, we'll be unadventurous, nervous and weak if we repeat our usual performances away from PP.
Q5. Which Blackburn player would you have? (Please, take them all!)
Mr Tibbs: Rhodes. I hear he doesn't do much apart from score, that's fine. We have strikers that do everything but score.
CumbrianRam: I quite like Jake Kean, Rhodes is pretty poor in general play but we could do with his goals.
AndyB: There's a few Blackburn players I'd like but we won't spend on their wages. An experienced older head to bring the rest of our players through tough games would be good (Murphy?). Rhodes as well, who in the championship wouldn't have him!
RamNut: Whatever happened to Goodwillie? Jordon Rhodes? But if we spent £8m on a player we would all sh1t ourselves.
Leicester Ram: I like the look of Kazim-Richards on paper, although I have a feeling he's probably better on fifa than in real life. Scott Dann could solve some defensive problems too.
Duracell: Jordan Rhodes. We need a player who understands about kicking round things into nets. I'll come pick him up tomorrow?
Q6. Score prediction?
Mr Tibbs: 1-1. We're poor on the road but you're not in the best of runs yourself, I'd like to think we can grab a point.
CumbrianRam: 0-0
AndyB: 1-1
RamNut: Derby are impossible to predict. Maybe we will finish the season as we started it....with a 5-5 draw?
Leicester Ram: An ever optimistic 0-0.
Duracell: 2-0 Blackburn.